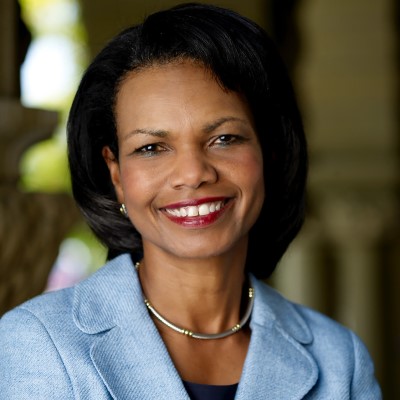 66th U.S. Secretary of State
Secretary Condoleezza Rice is the Denning Professor in Global Business and the Economy at the Stanford Graduate School of Business, the Thomas and Barbara Stephenson Senior Fellow on Public Policy at the Hoover Institution, and Professor of Political Science at Stanford University. She is also a founding partner of Rice, Hadley, Gates & Manuel LLC, and became the Tad and Dianne Taube Director of the Hoover Institution on September 1, 2020.

From January 2005 to January 2009, Rice served as the 66th Secretary of State of the United States, the second woman and first black woman to hold the post. Rice also served as President George W. Bush's Assistant to the President for National Security Affairs (National Security Advisor) from January 2001 to January 2005, the first woman to hold the position.

From February 1989 through March 1991, Rice served on President George H.W. Bush's National Security Council staff.

As Professor of Political Science, Rice has been on the Stanford faculty since 1981. Rice served as Stanford University's provost from 1993 to 1999.

She has authored and co-authored numerous books and continues to sit on the board of many organizations around her local community and around the world.

Rice is a Fellow of the American Academy of Arts & Sciences and has been awarded fifteen honorary doctorates.