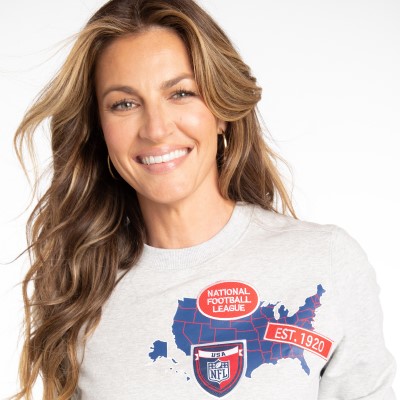 Sports Broadcaster, Entrepreneur, and Founder of WEAR by Erin Andrews
As part of FOX Sports' A Team, Andrews currently reports for "FOX NFL Sunday," for sideline coverage and features, a show that records a staggering 56.4 million unique viewers, as well as reporting for "NFL Thursday Night Football."

Andrews' recently added "creator" to her long list of titles with the launch of her new women's NFL apparel line, WEAR by Erin Andrews. The fashionable, comfortable and subtle line, designed for women to wear anywhere and everywhere, has quickly garnered notable attention- becoming one of the top NFL women's only brand since it launched in October 2019. Due to overwhelming demand, WEAR expanded to the NBA and select NCAA schools in 2020.

In addition to being a trailblazer in the sports world, Andrews also made a name for herself in entertainment as she co-hosted ABC's long-running reality series, "Dancing with the Stars," alongside Tom Bergeron for 11 seasons. Having a unique perspective on the competition, Erin was also a contestant in 2010, where she was paired with Maksim Chmerkovkiy and earned third place.

Recent notable appearances include her coverage of Super Bowl LIV, Superbowl LI, Super Bowl XLVIII, the 2018 NFC Championship Game, the 2015 & 2014 World Series, the 2015 & 2014 MLB All Star Games and hosting FOX's "Prime Time College Football Pregame Show." Prior to her move to FOX, Andrews spent eight years at ESPN where she hosted the first hour of ESPN's "College GameDay" on ESPNU and was a features reporter for the full three-hour program, congruently serving as a sideline reporter for NCAA football and basketball games.

Erin began her career with Fox Sports-Florida South as a freelance reporter and Tampa Bay Lightning reporter for the Sunshine Network. She joined ESPN in May 2004 as a reporter for the network's National Hockey League coverage and quickly become a fan favorite, transitioning into college football and basketball.