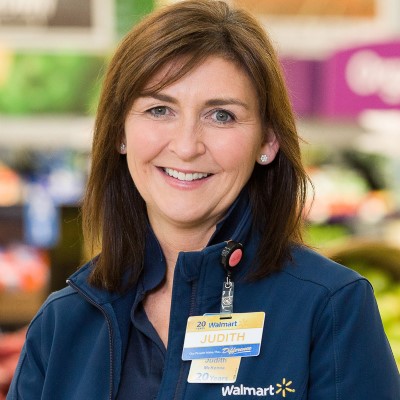 Judith McKenna is president and CEO of Walmart International. She is responsible for all aspects of Walmart's footprint outside the U.S., including the company's vast global sourcing operation. She leads a team of 700,000 associates who serve nearly 110 million customers every week in 6,000 retail stores across 25 countries. With $124 billion in annual revenue, Walmart International makes up roughly a third of Walmart Inc.'s total sales.

Judith is driving the growth and transformation of Walmart's international segment by expanding eCommerce and omnichannel offerings, boosting innovation to better serve customers, and working to make lives easier by creating a global culture that puts the customer at the center of everything.

Prior to leading Walmart International, Judith was executive vice president and chief operating officer for Walmart U.S., executive vice president of strategy and development for Walmart International, and chief operating officer for Asda Stores Ltd. in her native U.K. Before that, she served as Asda's chief financial officer for more than a decade.

In addition to leading a complex and diverse business, Judith has a lifelong passion for developing people at all levels and creating opportunities for learning. She's the daughter of two teachers and is an advocate for associate training and education. She is also the architect behind the introduction of Walmart Academies to the U.S.

Judith graduated with a law degree from Hull University in England before earning her Institute of Chartered Accountants in England and Wales accounting qualification at KPMG. She was awarded an honorary doctorate in law from Hull University. She is a board member of Flipkart, PhonePe and the Walton Arts Center. Fortune has named her to its list of Most Powerful Women in Business and Forbes to its list of World's Most Powerful Women.