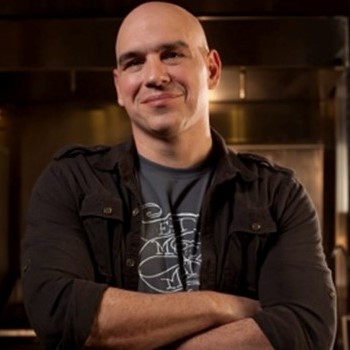 Celebrity chef and restaurateur
Chef Michael Symon cooks with soul. Growing up in a Greek and Sicilian family, the Cleveland native creates boldly flavored, deeply satisfying dishes at his restaurants: Lola, Mabel's BBQ, Roast, Bar Symon and B Spot and Angeline. Michael also shares his exuberant, approachable cooking style and infectious laugh with viewers on Good Morning America as their Resident Chef.

Since being named a Best New Chef by Food & Wine magazine in 1998, Michael and his restaurants have been awarded numerous honors: in 2000 Gourmet magazine chose Lola as one of "America's Best Restaurants;" in 2010, Michael was the first chef ever to host the annual Farm Aid benefit concert; Bon Appetit magazine included B Spot on their list of "Top 10 Best New Burger Joints;" B Spot's Fat Doug burger won the People's Choice award at the SoBe Wine & Food Festival. In 2009, Michael earned The James Beard Foundation Award for Best Chef Great Lakes.

Michael's television career is full of appearances and hosting gigs, starting back in 1998 when he made his debut on the Food Network. In 2008 he went on to win The Next Iron Chef, earning him a permanent spot on the roster of esteemed Iron Chefs. In September 2011, he joined the cast of The Chew on ABC. The Chew ran for seven seasons and received widespread critical acclaim including Daytime Emmys in 2015 and 2016.

Michael published his first cookbook, Michael Symon's Live to Cook – Recipes and Techniques to Rock Your Kitchen, in 2009. Since then, he has put out Carnivore, dedicated to meat lovers, and 5 in 5, inspired by a popular speed-¬‐cooking segment on The Chew. Michael's latest releases include Playing with Fire and Fix It with Food, from his own experiences in addressing auto-immune diseases and inflammation.

When he's not working, Michael is riding his motorcycle, playing golf, gardening in the backyard and spending time with his wife, Liz, their granddaughter Mila, and new puppy, Norman.